The Ultimate Guide To REITs Investing In Singapore (2023)
Investing in properties is most of the Singaporean's dream. Own multiple properties, become a landlord, collect a consistent stream of rental income… And this make lots of sense for a small country like Singapore where the land is scarce.
Historically, the Singapore property price has been in the uptrend. As compared to 40 years ago, the price has surged by more than 12 times! For investment properties with rental income, investors would have enjoyed an average of 12% to 15% return per annum over the years!
However, for a small retail investor like us, you need a huge sum of money to to start with. In the past few years, we have been seeing the resale price for some HDB flats across the islands surged pass the $1 million mark! Most of us can barely have enough money for a HDB flat to live in. With a requirement of at least 20% downpayment, you will easily need a minimum of $100k to $200k just to own a residential property. Unless you have a big fat wallet, otherwise, it is a bit tough for retail investors like us to scale your property portfolio in Singapore.
On the other hand, as a property investor, there will an on-going effort on managing tenants, chasing for rentals, maintenance, refinance your loans etc… You will then realise that being a landlord is not as simple as you thought.
So what if you still want to be a landlord? Good news is there is simpler solution. You can invest in real estate investment trusts (REITs).
What are REITs?
Singapore REITs are the listed companies that you can invest in. It is very similar to how you would buy shares through Singapore Stock Exchange (SGX). Instead of running different types of businesses, REITs use the investors' money to buy, operate and manage properties. In other words, by investing in REITs, you gain exposure on properties managed by that REIT. You become the co-owner of those properties like industrial buildings, hotels, shopping malls, business parks …
REITs are regulated to payout at least 90% of the distributable income to their unitholders! Which means that for whatever the properties earn in rental income, minus off all the expenses, you will receive at least 90% of that in the form of dividends!
In Singapore, there are about 40 REITs listed on the SGX. Even if you are new to REITs, you would have heard of some of the properties managed by REITs. For example, the Westgate Mall in Jurong East is managed by CapitaLand Integrated Commercial Trust, the very first REIT listed on SGX in 2002 or Paragon Mall in Orchard that is managed by SPH REIT.
You can own a piece of all these well-managed prime properties in Singapore through REIT investing!
What kind of returns can you get from REITs?
On average, Singapore REITs offer a dividend yield of 5% to 8% per annum. Together with a small capital appreciation, you would expect a return of 8% to 12% per annum. For example, Capitaland Mall Trust have generated an average of 10% annual return since its IPO in 2002. Another REIT, Ascendas REIT has generated an average of 14% annual return since its IPO. In other words, REITs' performances are very comparable with the long term Singapore properties' performance.
What are the REITs that listed in Singapore?
There are currently about 40 REITs listed on the Singapore Stock Exchange, which can be sub-categorised into few different sectors: retail, office, industrial, hospitality, healthcare and data centre.
Below is the part of the list of Singapore REITs, sorted by their dividend yield. Click here to check out other REITs.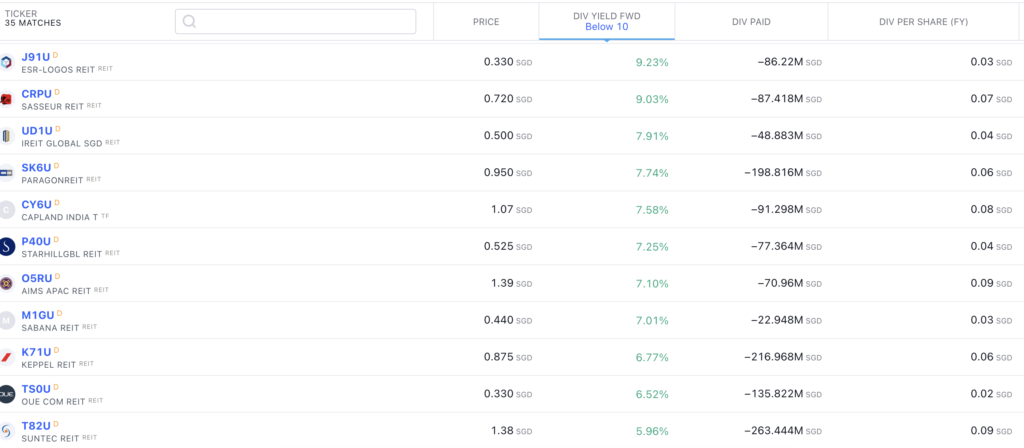 Which are the most popular Singapore REITs and why?
Having trouble narrowing down your options? Here is the top 5 most popular REITs in Singapore.
1. Capitaland Integrated Commercial Trust (SGX: C38U)
Capitaland Integrated Commercial Trust was the first REIT listed on Singapore Stock Exchange in 2002. It is the biggest retail and commercial REIT, with a focus on retail and office properties in Singapore. The REIT owns and manages 26 retail and office properties, which are strategically located near the MRT/LRT stations across the island.
Its has a strong sponsor, Capitaland (SGX: C31), one of the biggest property developers in Singapore. Capitaland has been providing the REIT with a pipeline of mature assets over the years.
Historically, Capitaland Integrated Trust has been delivering very consistent results over the years. It is currently trading at 5.1% dividend yield.
2. Capitaland Ascendas REIT (SGX: A17U)
CapitaLand Ascendas Real Estate Investment Trust (SGX: A17U) is a real estate investment trust listed on the Singapore Stock Exchange that primarily invests in industrial properties. The trust has a diversified portfolio of assets in Singapore and Australia, with a total asset value of S$13.2 billion as of December 31, 2021.
One of the key strengths of CapitaLand Ascendas REIT is its solid track record of delivering stable returns to investors. The trust has consistently delivered a stable and growing distribution per unit (DPU) over the years, with a 5-year CAGR of 2.8%. It is currently trading at a yield of 5.6%, which is relatively attractive compared to other REITs in Singapore.
Another strength of CapitaLand Ascendas REIT is its strong sponsor, CapitaLand Limited, which is one of Asia's largest real estate companies with a proven track record in property development, investment and management. The trust benefits from CapitaLand's expertise in asset management, which has allowed it to maintain a high occupancy rate of 94.2% for its portfolio as of December 31, 2021.
3. Parkway Life REIT (SGX: C2PU)
Parkway Life REIT is one of Asia's largest listed healthcare REITs. It owns 61 properties in total in Singapore, Japan, and Malaysia. In Singapore, Parkway Life REIT has Mount Elizabeth Hospital, Gleneagles Hospital, and Parkway East Hospital under its umbrella.
It is one of the most resilient and defensive REITs listed in Singapore. Based on its latest price, the REIT is currently trading at about 3.8% dividend yield.
4. Frasers Centerpoint Trust (SGX: J69U)
Frasers Centrepoint Trust is a retail REIT that has seven retail properties in Singapore. The properties are Causeway Point, Northpoint City North Wing, Changi City Point, Bedok Point, YewTee Point, Waterway Point and Anchorpoint. Frasers Centrepoint Trust also has a 25% stake in PGIM Real Estate Asia Retail Fund Limited and a 31% stake in Malaysia-listed retail REIT, Hektar Real Estate Investment Trust (KLSE: 5121).
It is currently trading at a 5.5% yield.
5. Sasseur REIT (SGX: CRPU)
Sasseur REIT is the first outlet mall REIT listed in Singapore. The REIT owns and manages a portfolio of four retail outlet malls in China, which offers investors the opportunity to invest in the country's fast-growing retail outlet mall sector. The REIT was listed on Singapore Stock Exchange since 2018.
All four retail outlet malls of Sasseur REIT were reopened in March. The good news was all four malls enjoy triple-digit growth in sales on its first day as compared to the same period last year. Its annual Spring Sales which rescheduled to end-April reported a four-fold jump in first-day sales. We would potentially see a jump in rental income in the second quarter.
The REIT has planned asset enhancement initiatives for Chongqing and Hefei outlets which will commence in May to Q4. Besides healthy pipeline of assets from its sponsor, the management is also eyeing potential deals outside of China.