Alibaba's Recent Growth Has Slowed Down
Alibaba Group Holding Limited (Alibaba) is a leading multinational conglomerate specialising in e-commerce, retail, internet services, and technology. It has recently announced its quarterly results ending 31 March 2023, we will deep dive into its performance and the near term growth prospects.
Financial Performance
1. Revenue Growth
Alibaba reported strong revenue growth in the quarter, driven by the continued expansion of its core e-commerce businesses, cloud computing segment, and digital entertainment services. However, its revenue growth fell just short of analysts' estimates, largely due to its heavy reliance on Chinese commerce. Good news is there are positive signs emerging as Alibaba observes a revival in online commerce, particularly in fashion and healthcare products, leading to increased domestic momentum in March.
To adapt to the changing market landscape, Alibaba recently announced its decision to split into six distinct business units. This strategic move aims to enhance the agility of each segment, potentially driving accelerated growth and even triggering a rebound in share prices.
2. Profitability
Alibaba demonstrated solid profitability in the quarter, with healthy operating margins and net income. The company's focus on cost optimization, efficient operations, and value-added services supported its profitability despite competitive pressures and rising costs.
3. Digital Transformation Initiatives
Alibaba's ongoing digital transformation efforts were highlighted during the quarter. The company continued to invest in advanced technologies, such as artificial intelligence, big data analytics, and cloud infrastructure, to improve user experience, optimize operations, and drive future growth.
Competitive Advantages
1. Market Leadership
Alibaba maintains a dominant market position in China's e-commerce industry, with its platforms being preferred choices for online retail transactions. The company's extensive product offerings, strong brand recognition, and robust logistics infrastructure give it a competitive edge in the market.
2. Ecosystem Synergies
Alibaba's integrated ecosystem enables seamless cross-platform synergies, allowing it to leverage data and insights from its various businesses to enhance user experience and personalise recommendations. This cohesive ecosystem strengthens customer loyalty and differentiates Alibaba from its competitors.
3. International Expansion
Alibaba's international expansion efforts continue to gain momentum, with the company diversifying its revenue streams beyond the Chinese market. Strategic partnerships and investments in global e-commerce platforms facilitate access to new markets, driving growth opportunities for Alibaba.
Industry Trends
1. Growing E-commerce Adoption
The global e-commerce market continues to expand rapidly, fueled by increased internet penetration, changing consumer behavior, and the convenience of online shopping. Alibaba is well-positioned to benefit from this trend, leveraging its strong market presence and technological innovations.
2. Digital Payment Transformation
The shift toward digital payments presents significant opportunities for Alibaba's financial technology arm, Ant Group. The increased adoption of mobile payments and the integration of financial services within Alibaba's ecosystem contribute to revenue diversification and long-term growth potential.
3. Chinese Market Opportunities
Currently, Chinese stocks are experiencing a freeze as investor confidence wavers amidst the country's slower rebound. Foreign trading volumes have dropped significantly since their peak in January. However, there are contrarian investors who remain bullish on China. Recent filings indicate that Michael Burry, known for accurately predicting the global financial crisis, has significantly increased his bets on Alibaba and JD.com, showing confidence in the long-term prospects of these companies.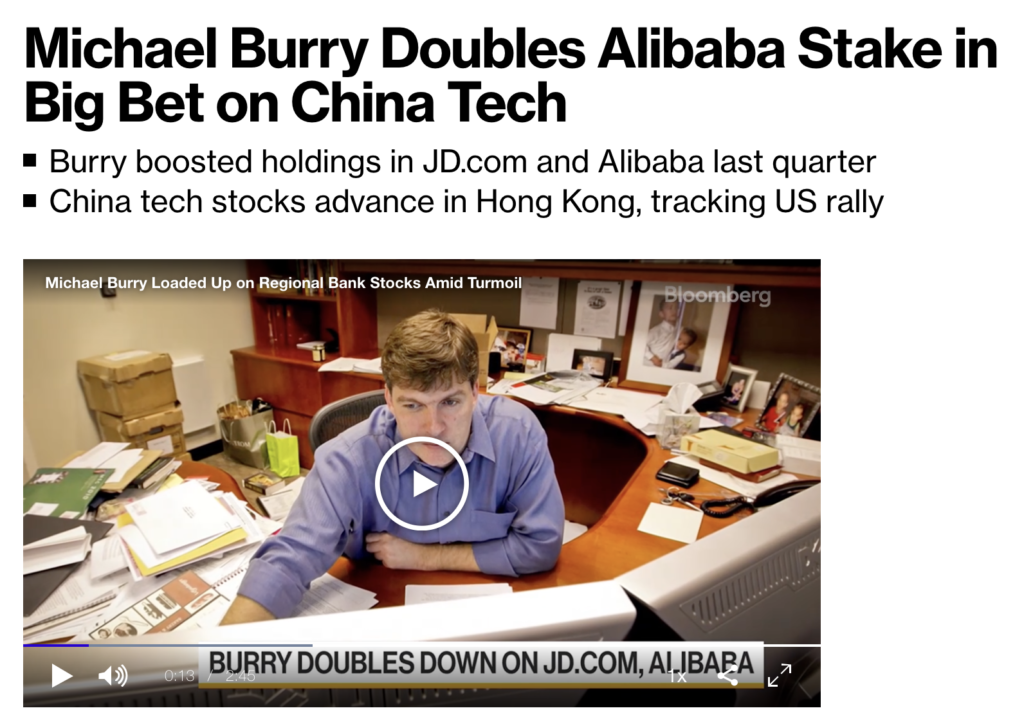 Margin of Safety
1. Regulatory Environment
Regulatory scrutiny in China's technology sector remains a potential risk for Alibaba. Changes in regulations, including antitrust measures and data privacy laws, could impact the company's operations and profitability. Investors should closely monitor regulatory developments and their potential implications.
2. Competitive Landscape
Alibaba faces intense competition from domestic and international players. Rival e-commerce platforms and tech giants entering the market pose challenges to Alibaba's market share. The company must continue to innovate, differentiate its offerings, and strengthen customer loyalty to maintain its competitive position.
Conclusion
Based on the financial performance for the quarter ended March 31, 2023, Alibaba demonstrated strong revenue growth, solid profitability, and ongoing digital transformation initiatives. The company's competitive advantages, market leadership, and expanding international presence position it favourably in the e-commerce industry. However, investors should remain cautious of regulatory risks, competitive pressures, and geopolitical factors that could impact Alibaba's performance. However, considering the company's market position, ecosystem synergies, and ongoing growth strategies, Alibaba presents an attractive investment opportunity for long-term investors.
Looking ahead, Alibaba has outlined key strategic initiatives to drive future growth. These include further expanding its ecosystem through acquisitions and partnerships, deepening user engagement through personalised services, and investing in innovative technologies to enhance its competitive edge.
Additionally, Alibaba's focus on international expansion, particularly in emerging markets, provides avenues for diversification and tapping into new consumer bases. By capitalising on the continued growth of e-commerce and digital payment adoption, Alibaba is well-positioned to deliver sustainable growth and create long-term shareholder value.
Interested in dividend stocks? Read more on our latest articles on Top 5 dividend stocks in Singapore.